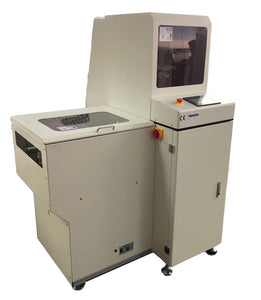 VB-390LS-E Magazine Buffer Unit
Max PCB size : 530MM*390MM
Magazine size : 535*460*570

Available working mode : Loader, Unloader, Buffering (FIFO,LIFO),By-pass.
Mitsubishi PLC program control+ touch screen panel
Dual function pusher ( Stepper motor driven)
Selectable pitch settings from 10mm to 80mm
Tower-light display for machines working status.
Exchangeable magazine from the rear of magazine ( single magazine)
Pusher position adjustable to Centre for the boards
Magazine infeed and outfeed are automatically driving by motor on the platform.
Threshold signal to protect the boards in upstream reflow oven.
SMEMA compatible.